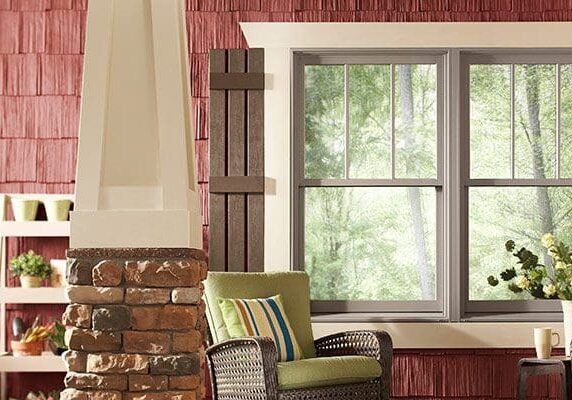 What is a double-hung window?
The double-hung window style has two sashes that open vertically for ventilation from either the top or bottom of the window unit. Both sashes may tilt in for safe and easy cleaning from inside the home. Balancers counter the weight of the sashes to provide easy operation and to allow the sashes to remain open in any position.
All Window Source double-hung windows come standard with:
Multi-chambered premium vinyl frames
Spring loaded vent latches
Fusion welded vinyl sash and main frames
Both sashes tilt in for safe and easy cleaning
Double insulated glass IG units
Custom-made to fit each opening
Warm edge spacer technology
Limited Lifetime warranty
The 3000 Series double-hung window line has all of the essential features of an energy efficient replacement window.
3000 Series Features
Multi-chambered 3 1/4 inch virgin vinyl frames
Fusion-welded sashes and mainframes
Clear 7/8 inch double insulated glass
Both top and bottom sashes tilt in for cleaning
Sloped sill
Warm edge spacer system
Fin seal weather stripping throughout
Extruded aluminum half screens
Double cam-action locks
Heavy duty screens with metal reinforced corners
Meets Energy Star when ordered with LowE glass
The 6000 series window is a step up from the 3000 series, offering more vinyl, even stronger construction, and double-strength glass.
6000 Series Features
Includes all Standard Features Plus:
Double pane, double strength glass
Heavy duty contoured frame
Low profile top sash
Interior glazing strips
Upgraded tilt-in latches
Glass Breakage protection available
Continuous interlocking meeting rail
Decorative interior shadow-line
Upgraded limited lifetime warranty
Available in white, beige, & nine exterior colors
The 9000 series is our highest performance window line. Triple glass, foam-filled frames, and two LowE coatings give you the most energy efficient option in our entire window lineup.
9000 Series Features
Includes All Standard & 6000 Series Features Plus:
Recessed cam-action locks
Heavy Duty foam filled frames
Rounded and miter-cut interior glazing strips
Upgraded balance system covers
Decorative exterior molding
Optional EnergyTek Spacer system
Low-profile top and bottom sash
Flordia approved DP-50 in some sizes with optional fiberglass reinforced meeting rails
Available in four woodgrain finishes
Browse replacement window, door & siding options
Windows and doors come in all shapes and sizes. Browse all custom configurations here or schedule an in person consultation.

The Best Rated Window Company in Atlanta